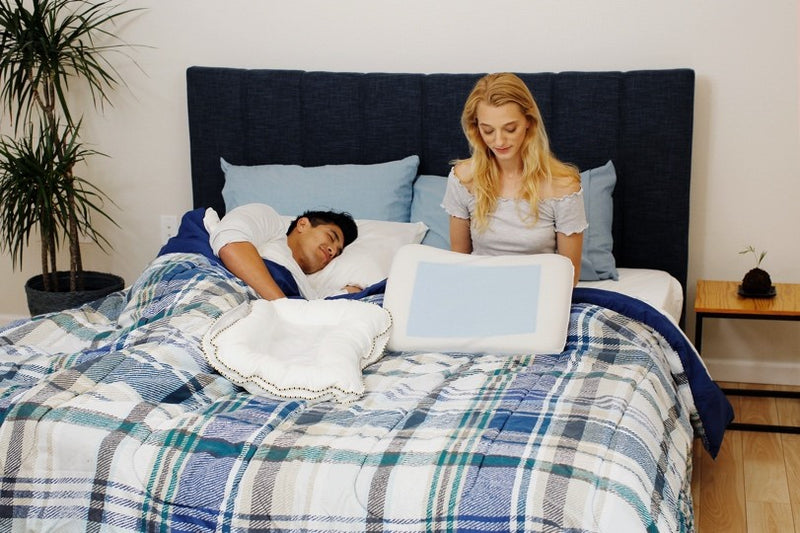 Shopping for a new pillow can be a daunting and overwhelming experience, especially when there are so many pillow options to choose from. With our tips, you'll be able to choose the best pillow for your sleep type and be sleeping better in no time.
Sleep Position
When selecting a pillow, you will always want to keep your ideal sleep position in mind.
Side Sleepers – In order to keep the neck, back, and head aligned to reduce neck pain, a firm pillow is your best bet!
Stomach Sleepers – A soft, light pillow is going to be the best option for you if you are a stomach sleeper.
Back Sleepers –  Do you sleep on your back? A light, soft pillow won't be enough support for your neck and a firm pillow is going to provide too much support. Instead, opt for a medium pillow to get the best of both worlds and a better night sleep.
Choose the Ideal Comfort Core or Fill Type
There are several different fill types to choose from and depending on your ideal sleep position, your comfort core will differ. At Noggin and Wink, we offer four different pillows with four different cores: soft, medium, firm, dual comfort.


Soft Plush – Filled with soft, plump fibers, our soft plush pillow is ideal for stomach sleepers and gently cradles the head for extra soft comfort.

Medium Plush – Our medium plush pillow core is made from intermeshing memory foam that supports the natural curvature of the neck, making it ideal for back sleepers.

Firm Plush – The firm support of our firm plush pillow helps keep your head, neck, and shoulders in neutral alignment, perfect for those who sleep on their sides. The ventilated memory foam core molds perfectly to your shape and keeps your noggin cool all night long.

Dual Comfort – Do you sleep on your stomach, back, and side? Then our dual comfort plush pillow is for you! The dual-sided pillow features both a firm side that molds perfectly to your noggin for the ideal level of support and a soft side that features a cloud of dreamy fibers!
Outer Pocket Fabric
Now that you've selected the ideal pillow core for your sleep type, the outer cover of your pillow is just as important. We have better than down soft hypoallergenic outer pockets on all of our pillows. Rest your head on a cloud of soft plump fibers that offer support and long-lasting comfort. 
Ease of Care
With your skin coming into direct contact with the pillow, you always want to ensure the pillow you are sleeping on is clean. When selecting a pillow, don't forget to consider the cleaning instructions.
At Noggin and Wink, all our pillows have a down alternative outer cover that has a zipper to easily remove the pillow insert before throwing it in the wash. Before you know it, you'll have a fresh, clean pillow!
Don't Focus on the Price Tag
Our best tip when buying new pillows is to avoid the urge to purchase the cheapest pillow out there simply because they will offer minimal support and will need to be replaced quickly. Purchasing quality pillows will come with a cost, but that doesn't mean you need to drain your bank account. When you're choosing your pillows, always allow comfort to outweigh price.