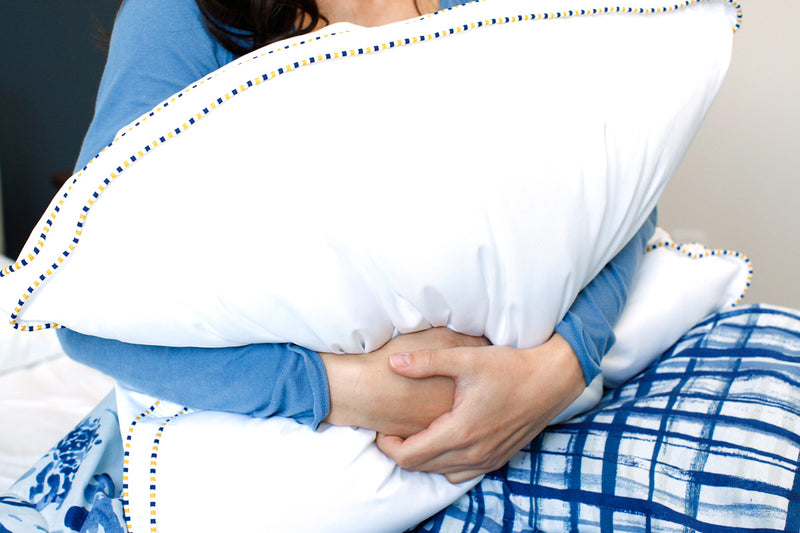 Your pillow is your trusty companion whether you're tossing and turning at night, getting a good night's sleep, or lounging around on a rainy Saturday. If you're sleeping for the recommended 8 hours each night, that's a minimum of 240 hours a month spent on your pillow and just like your mattress, your pillow has a shelf life. If you've noticed any of the following signs, it's time to replace your current pillow with a Noggin and Wink pillow.
1. You're waking up with a stiff neck
Over time, pillows break down, offering a vdecreased amount of head and neck support. If you're waking up in the morning with a stiff or sore neck, it's a sign that your pillow isn't supportive enough. Before running to the store to get a new pillow, try fluffing up your pillow. If this doesn't fix the issue, it's time to pick up a new pillow!
2. Your sleep position has changed
The pillow you are sleeping on night after night should be designed specifically for your sleep type. If you've always been a stomach sleeper but recently started sleeping on your side and noticed you're not getting a good night's sleep, it's time to switch out your soft pillow for a firm option. 
If you've never purchased a pillow based on your sleep type, there's no need to be overwhelmed! Each Noggin and Wink pillow is crafted for each sleep type. From belly sleepers to back sleepers, and even those who sleep in all positions, our pillows will help you get a perfect night's sleep, every night.
3. If it's been 1 to 3 years
There is no set-in-stone time frame in which you should be replacing your pillow – it all depends on the quality, how frequent it is cleaned, and the overall condition. If you can't remember when the last time you replaced your pillow was or if you're concerned it might be time to replace your pillow, here are some guidelines to follow:
High quality, durable, and memory foam options can be used for 18 to 36 months
Low quality, polyester pillows should be replaced every 6 months
4. Your pillow isn't comfortable
Life is too short for uncomfortable pillows. If you find yourself constantly tossing and turning throughout the night, unable to get comfortable, you deserve a pillow upgrade. Whether you are a belly sleeper, side sleeper, back sleeper, or sleep in all positions, Noggin and Wink has a pillow for you.