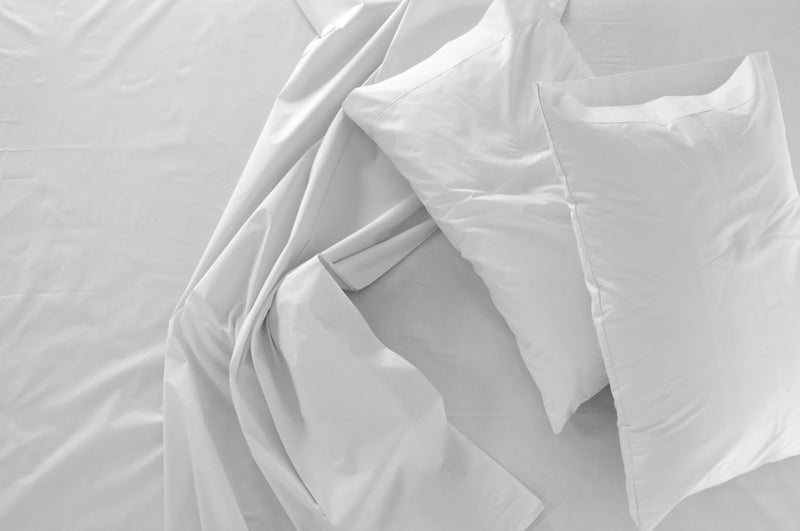 There is no better feeling than climbing into a bed with fresh sheets, perfectly plumped pillows, and a cozy comforter after a long day. What really takes this experience to the next level is the material and quality of your pillowcase. A standard set of sheets typically comes with two matching pillowcases but opting to purchase your pillowcases separately, you're able to select a material that better suits your needs.


Thinking about purchasing your pillowcases separately? Here are the best pillowcase materials:
Cotton
One of the most popular pillowcase materials is cotton. It's cool and absorbent to sleep on, comes in various thread counts, and is easy to wash. Although the most frequently used material for pillowcases, there are some downsides to having a cotton pillowcase. Some downsides include the material bunching up easily and leaving non-permanent crease marks on your face.
Nylon
Another common pillowcase fabric, nylon is typically made to look like silk. It's easy to launder and it dries fast, but the material isn't absorbent and can cause your face to sweat.
Linen
Linen is a high quality, natural flax product that is no longer produced in quantity. With a unique feel to it, linen is lightweight and breathable, making it the ideal fabric for bedding for the hot summer months.
Satin
A more luxurious pillowcase material, satin is smooth and kind to your skin. If you are looking for ways to improve not only your skin but also your hair, taking advantage of a satin pillowcase will help you achieve softer, smoother skin and hair. Satin is also known for helping prevent wrinkles!
Silk
A natural fabric, silk offers similar beauty benefits as satin does but is more delicate and must be hand washed. Unlike other pillowcase materials, silk is sold by weight and depending on the type of silk, this can become expensive.
Just as the type of pillow you use is important to achieving quality sleep, the material of your pillowcase is important as well. Enhance the comfort of your Noggin and Wink pillow by using the right pillowcase for you.